About me


HI! i'M lENA AND i AM A devoted CATHOLIC LIVING IN THE NOUGHTIES!
Hi my name is Lena and I was born in Santorini, Greece. At this present time, I am now living in sunny Los Angeles, California. I was born and raised a Catholic. Growing up I did not make much out of this religion and did not understand what all the fuss was about being a Catholic. I went to mass every Sunday like most kids my age did. I also went to a Catholic School. It was all suffocating to me at first and I almost, almost abandoned this faith during my late teens. I thought that being a religious and following Catholicism interfered with the free spirited person that I was. I thought that liberation and believing in diverse philosophies and beliefs do not go hand in hand with this faith and its dogmas. But one day everything changed, everything was anew in my faith, because of one dream.

When I was 19, I was in UCLA and studying Psychology I lived in a dormitory. One night as I was sleeping soundly, I had a vision. I saw the sky, half was in twilight and the other half was an orange sunset lit sky and in the middle was Jesus on the cross. I was scared and nervous. Then suddenly I saw a great big fire. A fire that burned white. After which I saw a mountain, Mt. Sinai perhaps and there were many people kneeling in front of this mountain. At this point my dream was in black and white, and then I heard a voice saying "Go tell the My People". And so I awoke from this dream, sweating profusely and could hardly breathe. I started reading the Bible. I found the letters of St. Paul. I started reading all his teaching. From then on I have come back to having faith in the religion I once almost abandoned.

St. Paul became the inspiration of my life. He questioned Christianity but found light in Jesus. He devoted his life in writing the Epistles and teaching people and spreading the word of God. As St. Paul did in those days, I would also like to share the Word of Our Lord Jesus Christ.

I am now 26, and it has been seven years since that day that I had a vision of God. I want to uphold my promise to him by sharing His Word. I will try to use this site to share His Teachings and His Love.

May the Lord God Bless us always and forever. Amen.




Powered by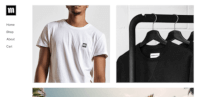 Create your own unique website with customizable templates.
Photo used under Creative Commons from DanielleSLynn